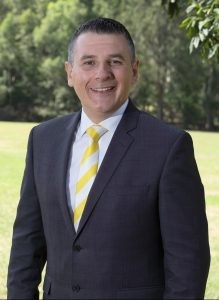 In excess of 20 years of Real Estate selling experience, Adam Stephens is recognised as one of Sydney's premiere and most respected selling agents in the medium to large residential Project landscape. A reputation that has been earned through the provision of confident, honest and candid advice which has proven to constantly deliver the results for his loyal client base….project after project, year after year.
As Owner & Principal of Ray White Ermington, located 22km North West of the Sydney CBD, Adam is perfectly positioned geographically to manage, service and execute Project sales in many regions of the Sydney basin. A track record which is highlighted with Projects in the Upper North Shore of Sydney, through to the Inner West and Sutherland Shire.
Adam's successful 20 year relationship with the Ray White Group has compounded his ability to ensure that every builder, developer and purchaser obtain the highest level of service and confidence that can only come from the marrying of two highly regarded reputations. The strength of the Ray White brand and the trust earned by Adam through every transaction is the cornerstone of his longevity and ongoing ability to deliver results of the highest calibre.
If you are at the planning stage of a residential project and seeking advice from a Project Marketing specialist, the sooner you are able to reach out to Adam Stephens, the sooner you will be in a position to capitalize on Adam's wealth of knowledge and experience at the most crucial time in the process.
Call Adam Stephens on 0411 602 220 for a private, confidential discussion or complete the below contact form and Adam will call you direct.